Terrawatu's Signature Project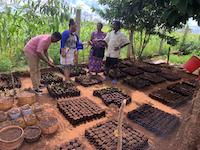 The Chakula na Dawa Usalama Project -- which means 'Food and Medicine/Health Security' in Swahili -- now includes large permaculture farm under cultivation, gardens at orphanages, and regular healthy cooking classes.
"Bridging indigenous and modern worlds for a more peaceful society…" Read more
Tanzania Safaris
People-to-People Safaris Experience Tanzania with the experts! Get a taste of true Africa while making a difference in this world. Join a People-to-People Safari and support Terrawatu's projects at the same time.
Highlights and Videos